Saturday, I experienced my first book signing. I've wanted to be on the 'pen-holding' side of the table for so long… And I realized two days before I had no idea what to do. Thank goodness I wasn't signing alone. Two really great chaptermates (and friends) led me through the steps.
What makes a great book signing? Well…starting with 46 books and selling 43 tends to make you smile. But our book signing was successful because of the readers and those who promoted our book throughout the store.
FIRST— a great book seller and store are essential. Promotion through the store and their website helps your book signing look professional and reaches readers that frequent the store instead of the author's website and circle of friends. Our chapter has developed a relationship with a centrally-located bookstore that LOVES romance. They continually work at their relationship with the community and their romance readership is very large and supports local authors.
SECOND— promotion through your chapter, USE your social media outlets, author newsletter, and any other friends you have to distribute information about the signing. Asking your friends to forward the information is always good and twisting arms of your friends to come works. Our chapter has a very good support system. Even if we've already purchased the book, we show up to be the cheerleaders, the gophers, and the sales people who talk about the book.
THIRD— be prepared. Ahead of time…you might want to know how big the table is where you're signing. A small table limits how much you bring to display, or if you need a small table or crate (which can store your book signing materials) to use at your side. You'll need bookmarks and 'autographed by author' stickers. (Totally forgot those–thanks Nikki & Wendy.)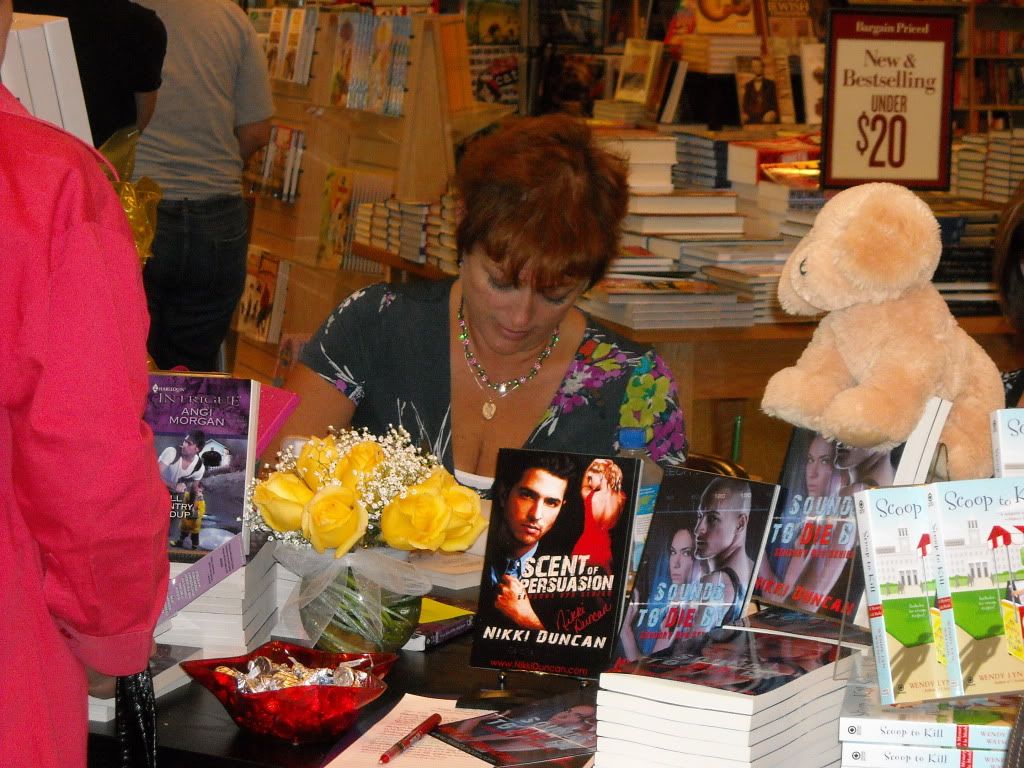 FOURTH— have free food. My chaptermates suggested that we have free cupcakes which were a huge hit. I also had a bowl of chocolate kisses.
FIFTH— have door prizes and advertise them in advance. Have periodic drawings throughout the signing and collect contact information (either by small registration slips, or a clipboard).
SIXTH— have fun. Of course, it's great if you're sitting next to friends, especially ones you can cut up with. About an hour into the signing, when we had a breather, our store rep came by and said that the customers were mentioning to the cashiers how much "FUN" they'd had talking to us.
AND LAST BUT THE MOST IMPORTANT— readers. Having friends and family there for support is a must. But the point of a book signing is to introduce new readers to your books and to have the opportunity to meet readers. Getting to know the people who keep us in business is a wonderful opportunity.
My husband attended my first book signing. He summed up the experience over dinner: When performers want to get in touch with their audience, they perform live. Singing, acting, comedians…a live audience energizes them and must give them a great deal of pleasure when the performance goes well. Authors have a very limited time to connect with a live audience. Book signings give them a window into what their readers think and feel.
He's right. Without readers…there wouldn't be a need for writers. So thank you for continuing to support our stories. And thanks to everyone who made me have a fantastic signing. It was awesome meeting some of you for the first time. I hope it was the first of many experiences.


QUESTION: When you see an author signing a book at your local store, do you ask them any questions? Volunteer information? Or just tell them your name for a book?
Til next time,
Angi is running a month-long contest. Please send a picture of yourself Holding the Cover of her September Harlequin Intrigue. You'll be registered in a drawing for several prizes. Visit AngiMorgan.com for all the details.