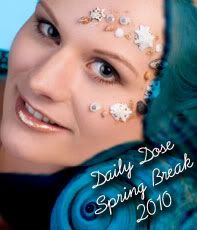 It's the moment you've been waiting for! Our winners for the Daily Dose Spring 2010 giveaway! This was such a fabulous week, I can't wait to do it again next year! As you may recall, our giveaway includes: signed bookmarks and postcards from Janet Fox, author of FAITHFUL, and Alexandra Diaz (OF ALL THE STUPID THINGS). The winner will also score a special squeezy soccer ball from CHANGE OF HEART's author Shari Maurer, and two charms in honor of Bonnie Doerr's hero of ISLAND STING, the charming and adorable Angelo Sanchez: a key, reminiscent of Angelo's gift idea for Kenzie and a silver fish hook. He is, after all, not only an awesome fisherman, but also a supreme catch. But wait, there's more! Jeri Smith-Ready is pitching in a copy of her debut YA novel SHADE (and who wouldn't appreciate SHADE on spring break?) and Shannon Delany (13 TO LIFE) is adding a shiny 13 to Life pin, signed mini poster and other odds and ends.
In addition to these fabulous prizes donated by the guest authors, the prize pail winner will receive a $75 gift certificate to Amazon and three runners up will receive a $10 gift certificate each.
I entered all the names who commented on every Spring Break blog and nine of you qualified for the prize pail giveaway out of more than 200 comments total! What a fantastic week it truly was!
The Winners!
So without further ado, our grand prize pail winner is: Elizabeth!
Our three runners-up (each of whom wins a $10 gift certificate to Amazon) are:
Lynsey Newton
Kelly
bigferret
Congratulations to all the winners and a huge thank you to all the authors of the Class of 2K10 who shared their spring break, creativity and more with all of us! If the winners will drop me a note, I will take care of getting their prizes out to them!