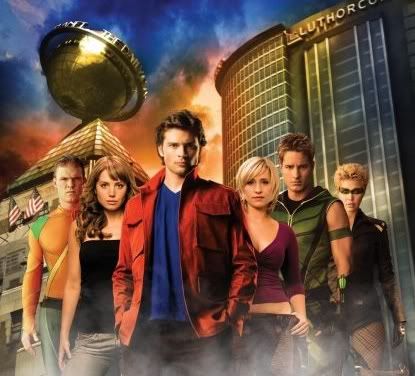 Dear Smallville Producers, Writers and Network,
Thank you for your announcement yesterday announcing the return of Smallville for a tenth season. 22 episodes in a tenth season will make television history for the show as it will easily pass the 200 episode mark in the fourth episode of the tenth season.
I have been avid fan of the show since the first season. I delighted in the rediscovering the wonder of Clark's powers as he grew up in the small town in Kansas. His initial friendship with Lex, the complicated choices that came between them and the cool, level-headed approach his father Jonathon took to helping Clark control his powers has led the young man to Metropolis, working as a reporter and finally embracing his powers as a hero.
We've had fabulous guest appearances of some great heroes from DC mythology and added Justin Hartley's Oliver Queen (Green Arrow) to the cast. After seeing "Absolute Justice" this past January, I am more engaged than ever. You have so many great opportunities for storytelling coming, but I think the 200th episode should offer fans the long awaited moment of Clark flying — as Clark, not Kal-El or under the control of others. It's time for the Red-Blue blurb to become Superman, in spirit if not in name.
Chances are, season 10 will be the end and it's time to let the series go out with a bang. While I think the Justice League of America should formally name itself at the end of the tenth season, episode 200 should be about Clark embracing who he is, flying and even donning the familiar red and blue suit. While it's true that Clark's idealism is one of Superman's ultimate weaknesses, let the show embrace his strengths too.
Thank you again!
"SMALLVILLE" TO RETURN FOR A TENTH SEASON ON THE CW
March 4, 2010 (Burbank, California) ─ The CW Network has announced that its hit series "Smallville" will return in the fall of 2010 for a momentous tenth season.
"Smallville," a modern retelling of the Superman legend, stars Tom Welling as Clark Kent. The series moved to Friday nights this season, where it currently ranks as network television's #1 show in its time period among men 18-34 and men 18-49. Additionally, "Smallville" has dramatically improved The CW's ratings performance in its Friday 8:00-9:00p.m.time period by 67% among adults 18-34 (1.5/6), 200% in men 18-34 (1.8/7), 75% in adults 18-49 (1.4/5), 183% in men 18-49 (1.7/6) and 74% in total viewers (3.12million).
"Smallville" joins the five previously announced series – "The Vampire Diaries," "Gossip Girl," "90210," "Supernatural" and "America's Next Top Model" – which will all return for another season on The CW.
"Smallville" was developed for television by Alfred Gough & Miles Millar ("Shanghai Noon," "The Mummy: Tomb of the Dragon Emperor"), based on the DC Comics characters. Kelly Souders & Brian Peterson serve as executive producers, along with James Marshall, Mike Tollin, Brian Robbins and Joe Davola. The series is produced by Tollin/Robbins Productions, Millar/Gough Ink and Warner Bros. Television. SUPERMAN was created by Jerry Siegel and Joe Shuster.