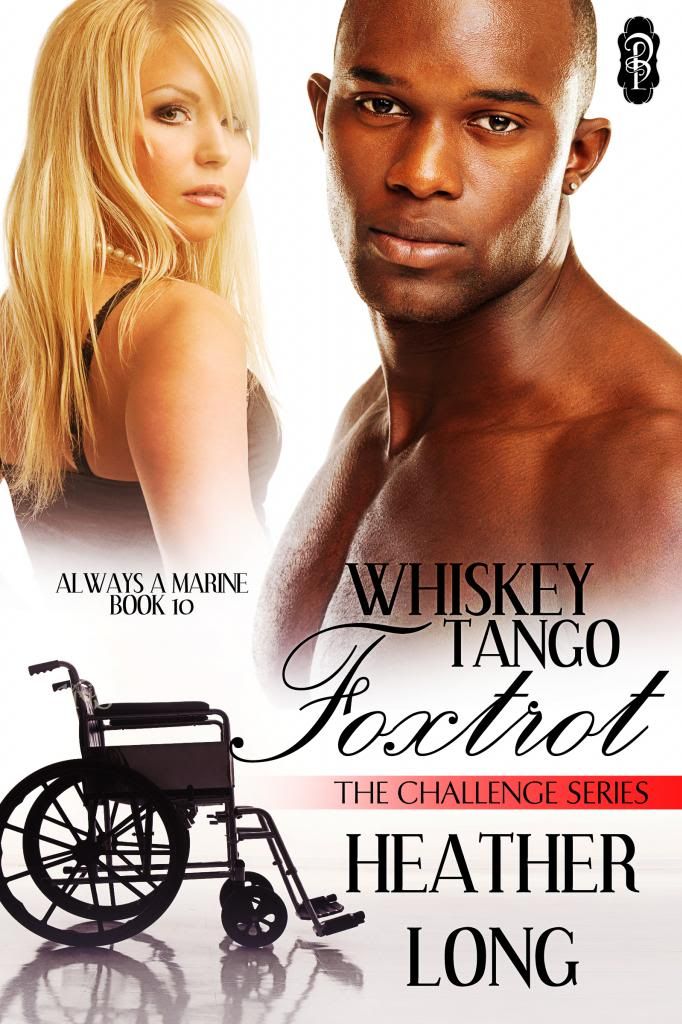 Joe Cooper is a hero and active duty
Marine sent to Mike's Place to complete his recovery from injuries sustained
during a firefight. His one-in-a-million injury includes a bullet to the back
that cracked a bone in his spine, but left the nerves intact. His right leg was
shattered in two places. Extensive reconstructive surgery and weeks trapped in
a wheelchair haven't dampened this wounded warrior's pride or his devotion to
duty—but they have left him needing to be needed because he is not an idle man.
His waiting is very soon rewarded when recently widowed mom Melody Carter moves
in next door.
The
Story Behind The Story
At the heart of every Marine book I
write is the theme of healing and returning to life at home, away from the wars
we've been fighting in Iraq and Afghanistan. When I first began writing the
Always a Marine series, a conversation with my critique partner began with "what
if someone who comes to Mike's Place is a bit of a fraud?" This random idea
stuck with me and evolved into, what if this person wasn't so much a fraud, but
felt like a fraud? Why would she feel that way? How could she overcome it?
Then just a few months ago, my
editor mentioned to me that they were putting together a new series. Based on
stories I'd written previously, she invited me to participate. This idea
resurfaced, because I knew the story I wanted to tell. What if an abused wife
and widow of a Marine had to rely on Mike's Place to save her child? Who could
reach out to her? And in a flash, I saw Joe. Joe, an honorable, admirable, and
courageous Marine battling back from his own injuries—he would be in a
wheelchair because that would make him safer for my heroine to "trust" him and
these two lonely souls would find salvation in each other.
It was far from the easiest story I've
ever written. I found myself battling anger over the hurt and pain Melody found
herself in and cheering Joe on as he struggled to breach the barriers she
erected against the world. Ultimately, the tale traveled different paths than I
envisioned, but I am extremely proud of the book. Joe is also my first
African-American hero and at no point did I focus on race, but whenever I saw
Joe in my mind, he was a good looking man with a heart of gold, a spine of
steel, and a soul worth cherishing.
I hope you see him that way, too.
Sadly, Melody's issues are not unique and are part of a larger, silent epidemic
in and out of the armed forces. Please
remember, if you are being abused, you are not alone. Call for help:
National Domestic Violence Hotline –
1-800-799-SAFE (7233)
Military OneSource – 1-800-342-9647
(To locate a victim advocate in your area).
Defense Centers of Excellence
Outreach Center – 1-866-966-1020 (Helps
you find resources in your area)
Department of Defense (D.O.D) Child
Abuse Safety and Abuse Hotline – 1-800-336-4592
Blurb:
Have you ever woken up
every day afraid of everything?
For single mom and widow Melody Carter, six months passed
since an IED ripped her life apart. Everyone is sympathetic and offers
platitudes of comfort and support. Everyone thinks they know why she's grieving
but Melody isn't mourning her broken heart. She's ashamed to be grateful her
abusive husband won't hurt her anymore and scared for her child. Born with a
mild heart defect, her daughter needs lifesaving surgery and with her funds
tight and her emotional scars tighter, she's running out of options. When she
receives an offer for assistance from Mike's Place, can Melody put her faith in
the men her husband called friend?
Have you ever woken
up, day after day, to discover your body's betrayal?
Marine Captain, Joe Anderson Cooper, received the Silver
Star for Valor when he led his unit through heavy fire to rescue fellow
Marines. Despite numerous injuries, the Captain refused medical aid, insisting
that the medics attend others. A broken back and shattered bones put Captain
Cooper in a wheelchair and every day is a battle to keep his recovery on track
and his sanity intact. When a single mom moves in to the apartment next door to
his and he recognizes a kindred—damaged—soul, can he overcome her fear and be
the man she's always needed?
Can these two lonely souls rise to the challenge or will their scars
trap them forever?
Excerpt:
Letting herself out of the apartment, she locked up and
turned to find her neighbor locking his door. He caught sight of her and
smiled. "Good morning." His deep baritone hummed over her senses. She
appreciated the low voiced greeting.
"Good morning." She wanted to say something more, but her
brain locked up around the words. He eased his wheelchair back until nearly off
the sidewalk and motioned for her to precede him. Biting her lip, she found
another smile for him. "Thank you." Her heartbeat accelerated and sweat cooled
her spine. She didn't hug the wall, but she couldn't help widening the distance
between them.
The wheels made the faintest squeaking noise after she
passed, and she glanced back to see him following her down the path toward the
parking lot. Maybe she should have offered to push. He wore an olive green
t-shirt and a matching pair of slacks, though they were cut up the side of the
large cast encasing his right leg from mid-thigh to his toes.
He—Joe, he said his name was Joe—met her gaze and gave her
another easy smile. His eyes crinkled at the corners and the dimple in his
cheek deepened. The sidewalk widened and she slowed to let him catch up.
"I'm sorry. I'm not the best company this morning."
"No worries, ma'am. Little ones take a lot out of a body."
The buttery softness of his voice washed over her like a soothing balm—like the
night before when he knocked on her door and introduced himself. He scared the
hell out of her, but not in the same breath.
I must be tired. I
have no idea what I'm feeling from one moment to the next. As if summoned
by her thought, fatigue wavered through her and she stumbled. The diaper bag
swung down her arm. She couldn't catch it and hold the baby at the same time.
Joe stopped the bag's arc, and gave her a chance to catch her balance.
"May I?" He offered, still holding the bag.
May he what…? He
wanted to carry the bag for her and she winced. It was heavy and he…
"I have plenty of room and then you don't have to worry
about it taking you off balance again." The sound logic quashed her natural
objections. She shifted Libby carefully and let the strap fall off her arm. Her
internal alarms sounded. Giving him the bag didn't give him some kind of power
over her, but her gut tightened at the surrender of her possession.
He settled the bag against his lap and nodded encouragingly.
"Just point me to your car…"
"Oh, I don't drive. Well, I do but I'm not driving here. I'm
actually just staying here for a few weeks and I'm waiting for the shuttle."
She tacked the last on with a grimace. "And apparently I'm as muddleheaded for
real as I feel. Sorry. Thank you. The shuttle is scheduled to pick us up here
in about…" She couldn't look at her watch.
"Two minutes." The captain supplied. "I'm waiting for the
same shuttle." His warm brown gaze turned studious. "Are you okay?"
Don't
miss these upcoming titles in the Always a Marine series: